Written by Dom Moore
A season of record activity is at arguably its highest point with the recent passing of Super Smash Con 2017, the PGR v4 season's third S Tier event in just under two months. The frequency of S and A Tier events have been the primary conversation topic in the current season, from top players and all the way down the ladder, but make no mistake- this year's Super Smash Con was more than just another S Tier event to be added onto the TTS. A culmination of fan interaction, an insanely skilled pool of players, and the game we all love to hate play made for one of the most entertaining events of the summer, and possibly of the year. Highlights were being crafted the entire weekend with the most notable ones including…
Record Breaking Attendance
Super Smash Con 2017 broke its own personal best in entrants, shattering last year's 1,272 by bringing in 1,531 entrants this year, but it also became Smash Wii U's third largest tournament ever- right behind EVO 2015 and EVO 2016. Three years of dedication and stellar events made Super Smash Con the biggest event outside of Sin City for Smash Wii U, potentially giving it the distinction of being an "East Coast EVO" of sorts? The uniqueness of having a Smash-centric convention and a high stakes bracket definitely allow it to grow to such sizes, and growing support year after year only validate the possibility.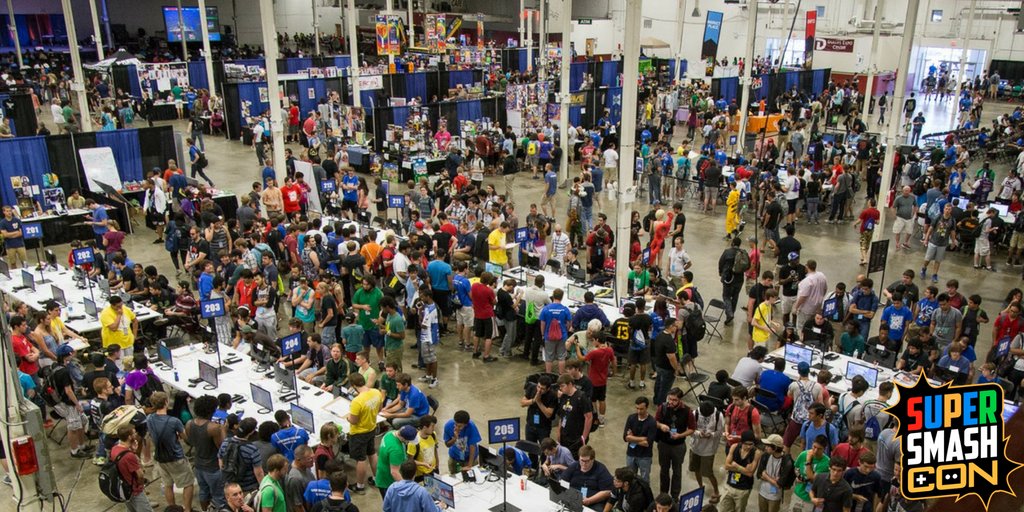 33rd Is The New Top 8
If you didn't already know, now you know: nobody is immune to upsets in Super Smash Bros. for the Nintendo Wii U. And yes, that includes your favorite player. Players such as Yuta "Abadango" Kawamura, Zachary "CaptainZack" Lauth, Elliot "Ally" Bastien Carroza-Oyarce, Samuel "Dabuz" Buzby, and Larry "Larry Lurr" Holland all ended up tying for 33rd via highly unexpected upsets, which opened up the bracket for new names to shine at the top. The subsequent results did not fail to deliver in the slightest.
Not All Who Wander Are Lost
A handful of the names scattered throughout bracket as deep as Top 8 were relatively fresh names in comparison to the ones we've become accustomed to seeing this deep in tournament play. Players such as Chris "Legit", Erik "Rideae" Smith, Sean "Cashmere" Bergeron, and Thunder "THUNDER" De Langis all managed to sneak into the Top 24 of Super Smash Con 2017 to place 17th, pulling upsets of their own in order to rightfully earn their spot. Reputable Wi-Fi Warrior Matt "MattyG" Ganshirt made a monstrous run that ushered him into 13th place overall, tying with Orion "Darkshad" Sky, a Ryu main from Ohio formerly ranked 44th on the PGR v2 who managed to do the same. Narrowly missing Top 8 was Aaron "dyr" Wilhite, scoring 9th, and finally breaking into Top 8 to outplace all other currently unranked players were James "Shoyo James" Wade at 7th and Tamim "Mistake" Omary at 5th. All of the listed players, while currently not on the PGR v3, definitely have the potential to not only be ranked on the PGR v4, but to repeat their performances at this year's Super Smash Con at other S Tier events, taking down the titans necessary to reach these high placings.
A Cinematic Ending
The ending scene to the play that was Super Smash Con 2017 ended in potentially the most dramatic fashion that we've seen at this event in its three years of existence. On one side, Team Solomid's Gonzalo "ZeRo" Barrios, the unanimous #1 player in the world and current #1 on the PGR v3, make it to Grand Finals through Winner's bracket with his Diddy Kong, despite some wildly close encounters along his path. On the polar opposite side of the coin, however, was NRG's Nairoby "Nairo" Quezada. After losing to Rideae early in Winner's bracket, Nairo tore through Loser's with his eyes set on nothing short of Grand Finals, taking out a laundry list of players that included the some of the world's best. When the two rivals met for yet another Grand Finals, Nairo pulled his trump card early and selected Bowser, the character that allowed him to defeat ZeRo at Dreamhack Atlanta 2017 just a few weeks ago. A swift victory for ZeRo in Game 1 forced Nairo to contemplate, and after some inner delegation, he locked in Zero Suit Samus, his trademarked character. Despite her notoriously bad matchup against Diddy Kong, Nairo knew that enduring the pain with his best character was the way to go, and from that point on, games were traded on both ends. Even after a Grand Finals reset, the heart-stopping game of tug-of-war the two were playing continued, right up until Game 5 of the second set. Intoxicated with momentum and adrenaline, Nairo turned on the afterburners and left ZeRo in the dust to end the tournament, 2 stocking him on Battlefield in the final game to win his first S Tier event of the season, and extending ZeRo's S Tier drought to three straight without a 1st placing finish.
Super Smash Con 2017 wrapped up as a roaring success all-around, leaving no stone unturned in terms of providing a quality Super Smash Bros. tournament. As the v4 season forges on, SSC 2017 will be remembered as one of the most important checkpoints on the path, providing us with an entertaining yet insightful tournament bracket that can be referred to and learned from for the remainder of the year. Even with it being another S Tier and on the list of "must attend" events, the experience provided was necessary, giving everyone an opportunity to relax and truly enjoy an event, even with tight competition blanketing the weekend. This is especially needed now more than ever, with no stop in activity in sight: 2GGC: SCR Saga and Shine 2017 will close out the summer on back-to-back weekends, both as S Tier event, and while they have the talent to match this year's Super Smash Con, it is safe to say that almost no tournament will be able to effectively match the experience provided by a Super Smash Con.